Libra: Web System
Project name: "Libra: Web System"
2nd year Systems Analysis project (2005)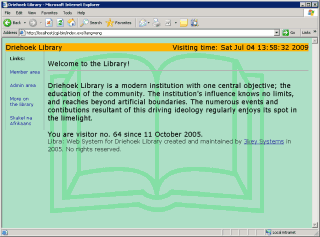 Description:
CGI-based intranet aimed at alleviating the shortcomings of the traditional library system.
Features:
Extensible, built-in modules: Member management, book cataloging, book checkout and book reservation, among others.
Hardware interfacing: Interfaces with a commercial barcode scanning device for ISBN and membership card identification.
Deployment: Libra is available as free software.
Software interface:
Web browser front end, multilingual and modular.
Development:
Language: C++.
Web server: Apache 2.
DBMS: MySQL 4.
Documentation:
Design Proposal
(420 KB)
Implementation Proposal
(145 KB)
Download:
Libra: Web System
(364 KB with source)
Webtionary
Project name: "Webtionary"
3rd year Web Design project (2006)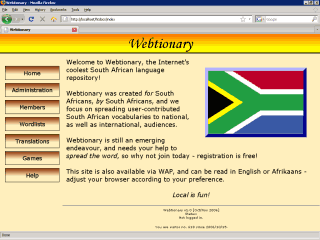 Description:
Webtionary is a dynamic website designed to serve as a repository for South African languages. Its name is a slight pun, due to its likeness to a web dictionary. The system can be classified along its main features.
Features:
User management:

User registration and administration
User notification via email in the events of registration and vocabulary modification
Continuous, per-page login status notification

Vocabulary:

Browse, review, download and upload user-contributed words and wordlists
Download FOSS (Free and Open Source Software) wordlists from server tree
Browse, review and download user-contributed translations
Downloadable in plain text, XLS (Excel spreadsheet), XML and PDF formats

Games:

Anagram maker
Crossword builder
Hangman
Random word generator

Accessibility:

Extensible multilingual support with default Afrikaans and English interfaces
WAP support: login, vocabulary and translation interfaces delivered via WML
Browser compatibility: Microsoft Internet Explorer, Firefox and Opera

Technology:

Dynamic content retrievals via Ajax
SSI page view counter
Realm-based MD5 authentication via .htaccess file
Localization implemented with JavaScript and content negotiation
All the abovementioned features are accessible via a web browser or mobile device, where appropriate.
Development:
Language: PHP 5.
DBMS: PostgreSQL 7.
Documentation:
Webtionary Manual
(56 KB)